Mic check! Mic check! 1, 2, 1, 2. *insert cool mic check gif here* All I could find was mic drop gifs and I just got here so that's not happening…..
Ehhh, screw it. Who doesn't love a good mic drop gif?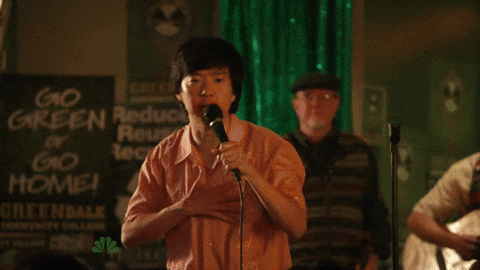 Okay, now that I've got that out of the way, HIIIIIIII! I'm so sorry I've been MIA for the last several months. See, what had happened was… I was infected with the debilitating disease known as writer's block. For months I suffered from severe laziness, which induced a chronic watching of bad tv and the fuckits. It was a dark time. I mean, literally this was me…but less hot. Because even crazy Johnny Depp is hot. Let's be real.
Anyway, during my time of woe, I took a trip to Cali and visited my friend Sara. We partied at Coachella.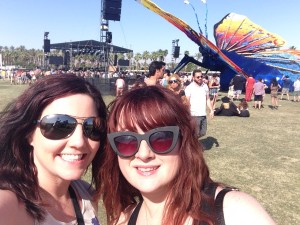 And even though we had the best time, my block was firmly in place. (She's going to kill me for posting this picture.) So I pushed forward. I thought, if I just distract myself enough with other things I love, the words will come back. So I bowled with my kid…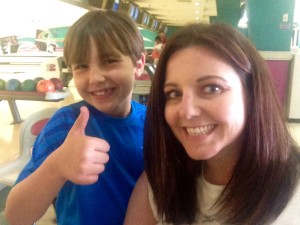 Caught a Jenny Lewis concert with my friend Abney, who is also going to kill me for posting this picture….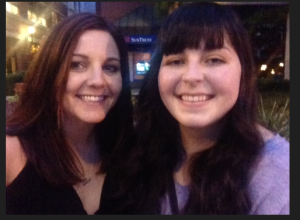 Went on vacation to Seattle..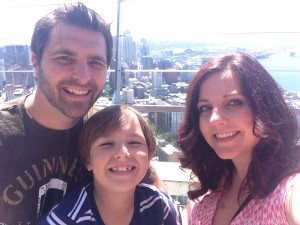 Hiked all over the Olympic National Forest…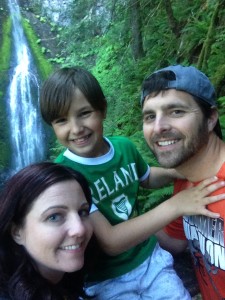 Still, I had no words. So I resorted to beer.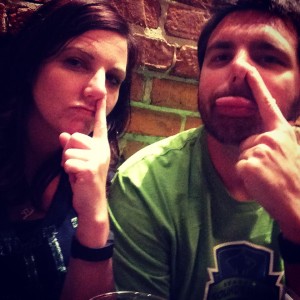 Then beer festivals. Which was also my birthday, so win.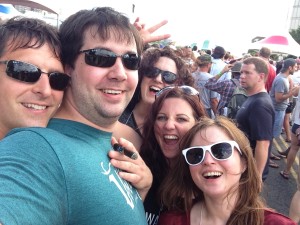 And still, NOTHING. At this point, it had been nearly 3 months since I'd written a word. I started to really freak out at this point. So I took in an Imagine Dragons concert, which kicked ass by the way.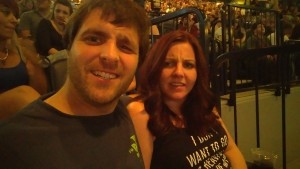 I dressed super inappropriately for the 4th of July (for like 5 minutes and only for this picture so don't get pissy.)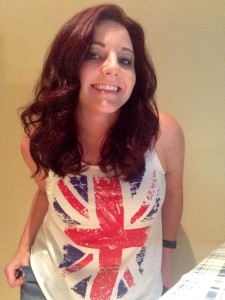 And then VEGAS HAPPENED. VEGAS VEGAS VEGAS. SWEET SINFUL VEGAS.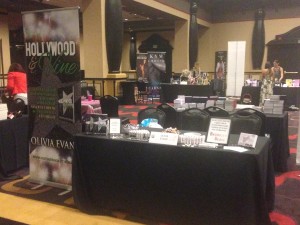 My first book signing. Holy shit was I nervous. But it was so amazing and I met so many amazing people and I could just say amazing over and over again and it still wouldn't express how I felt about that weekend. And then…something amazing happened…. I found my words. I went from Johnny to Jim in 0-60. Which is both sad and awesome.
So now I have my words and I'm writing like a crazy person. It's amazing. I also have another book signing coming up in November in Philly.
In honor of all these stupid awesome developments, I'm feeling generous. The book signing in Philly is sold out. Which is great for the authors, but not so great for the people who, like me, procrastinate until the very last minute and didn't get tickets. (I still haven't booked my hotel or flight if that makes anyone feel any better.)
ANYWAY, here's the deal. I'm giving away ONE morning session and ONE afternoon session to the Indies Invade Philly book signing on November 7th.
I'm also giving away TWO tickets to the after party. I heard a rumor there will be a karaoke machine. DO YOU SERIOUSLY WANT TO MISS THAT? I think not. So here's the deal, all you have to do is like my author's page and comment on the post or here. Tell me which ticket you would like to win and that's it. So to recap:
Like my page- Olivia Evans Author and comment on this post there OR comment on my blog with the ticket you'd like to win. That's it. No muss, no fuss. I'll announce the winners a week from today (August 14, 2015).
Also in that post I will announce the winners of the raffle I held at Love N Vegas for ARCs of my upcoming novel Brooklyn & Beale, which will be released before my signing in Philly on November 7th.
Okay, I think that's it! Good luck everyone! I hope to give you awkward/creepy hugs in Philly!
xoxo,
Liv