Hello you beautiful people!!! LONG TIME NO POST!!! Seriously, I feel like that's the story of my life. A lot has happened in the 84 years since I last posted. For starters…I have a new book coming out.
I know y'all are like, whaaaaaaattt? Well, just so we're clear, me too. Me too. This book. THIS FREAKING BOOK. Man, it was just…a soul sucking monster that ate into YEARS of my life. I remember back in the day when I used to churn out twilight fanfiction like I was a vampire that never slept. 80,ooo words? Pfffttttt gimmie 3 months. Now? EL OH EL. A lot of that is attributed to me pulling my face away from the computer screen and being the soccer mom my son needs me to be. Whadda ya do? Ya know? Kids. They're only small for a little while.
ANYWAY, back to the matter at hand, a book, I have one. If you follow me on social media, you've probably seen posts about FLUTTER. I'm so damn nervous about this book. It's like nothing I've written before, but I feel it in my bones.
It's going to be released on July 24, 2017. It's also available for preorder- HERE #shameless
I'm going to try to be more active here since my amazing friend and formatter, Jill, made my site so beautiful for me! I'm also threatening to post teasers from her totally dirty, hot flash inducing book on here until you guys harass her to stop being shy and PUBLISH THE DAMN THING ALREADY. Love you, Jill. #kibbeh
So here the deal. I'm going to do a super duper special giveaway on here, so everyone should subscribe to this blog so you don't miss it! Don't worry, I won't spam you, DID YOU SEE THE LAST TIME I POSTED HERE??? Clearly, you're good. #lazygirlislazy
For now, here's the beautiful cover courtesy of Jada D'lee Designs and the blurb, courtesy of me. LOL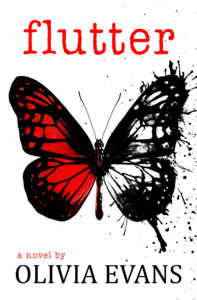 Dylan Walker has spent six years trying to move on from the loss of his girlfriend, Presley Cooper. Motivated by grief and the desire to do for others what he couldn't do for her, he burns the candle at both ends to make it through medical school. After graduation he moves west, putting as much distance as possible between his past and his present.
Or so he thought.
Unknowingly, Dylan has been set on a path that will destroy everything he thought he knew. All the pain, all the grief, was all for nothing. With the help of an unexpected ally, Dylan must find the answers and save the girl he loves before it's too late.
Deceit.
Betrayal.
Revenge.
A second chance at love.
But first, he must find a way to make her remember her past. Remember him. Remember everything.
---
Until next time!
CHEERS!
(for those of you bummed that I didn't do a vlog…patience.) LOL